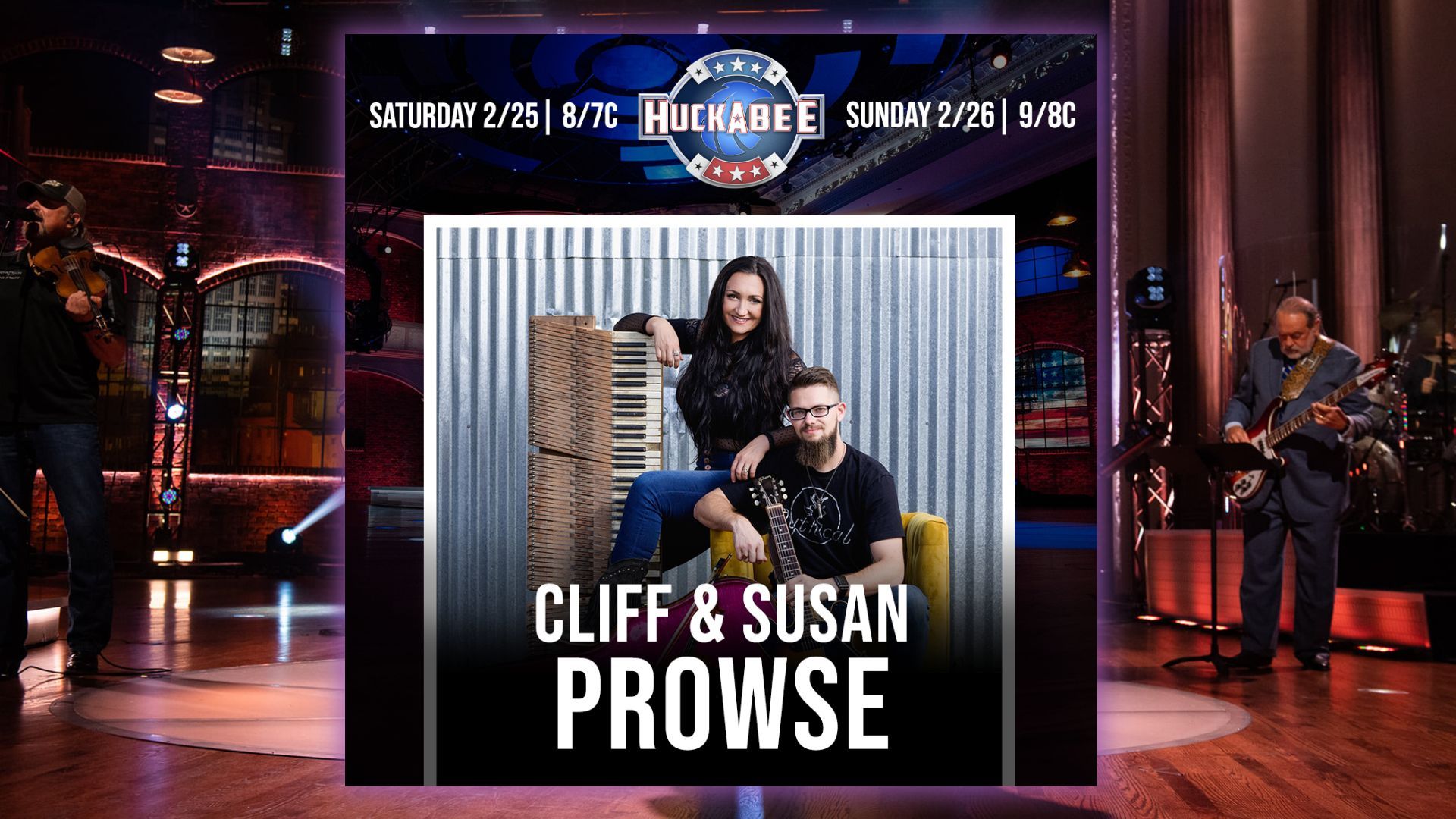 Nashville, TN - Cliff & Susan Prowse, the dynamic musical duo, will be the musical guests on the nationally syndicated show "Huckabee" on TBN. The married duo will perform their latest single, "Fiddle & Keys," with the Huckabee show house band "The Music City Connection" and visit with host, Governor Mike Huckabee, about their music career and the launch of their Entertainers Academy. 
The segment will air on Saturday, February 25th at 8/7c and again on Sunday, February 26th at 9/8c on TBN. The show will also be live on Huckabee's Facebook page and Huckabee's website on Saturday night. The show's social handle is @HuckabeeOnTBN for all platforms. Fans can also download the TBN app and watch the show live. 
Cliff & Susan Prowse bring their unique blend of country and rockabilly music to the stage, delivering an unforgettable performance. Their latest single, "Fiddle & Keys," showcases their incredible musicianship on their signature instruments and highlights their unmatched chemistry. In addition to their music careers, Cliff & Susan are passionate about helping the next generation of entertainers reach their full potential. That's why they've launched the Entertainers Academy, a comprehensive training program for aspiring musicians, singers, and performers. 
"We're honored to be performing on 'Huckabee' and sharing our latest music and the story of our Entertainers Academy with Governor Huckabee and the show's viewers," said Cliff & Susan. "We can't wait for everyone to see what we've been working on and hope that our music and message inspire others to pursue their dreams." 
Huckabee has hosted hundreds of musical acts featuring Dionne Warwick, Ronnie Milsap, The Cowsills, Clint Black, Don McLean, and many more. 
For more information on "Huckabee" on TBN, visit the show's website at www.Huckabee.tv or follow @HuckabeeOnTBN on all platforms.  
For more information on "Cliff & Susan," visit their website at www.cliffandsusan.live or their social media handles FB/IG/Tiktok @cliffandsusan and Twitter @cliff_and_susan 
To be in the live audience, get your free tickets on Eventbrite link: https://www.eventbrite.com/e/february-24th-2023-huckabee-taping-live-studio-audience-tickets-515261500017?aff=ebdsoporgprofile
PAST SHOW EXAMPLES: 
With Sam Moore: https://www.youtube.com/watch?v=qYjW285LwkI 
Mark Farner (Grand Funk): https://www.youtube.com/watch?v=a242nvsXSeA 
Meat Loaf (was his last scheduled performance before his death): https://www.youtube.com/watch?v=FUWFjheqVYc  
Don McLean (on 50th Anniversary of "American Pie"): https://www.youtube.com/watch?v=RiJlqzD2RrU