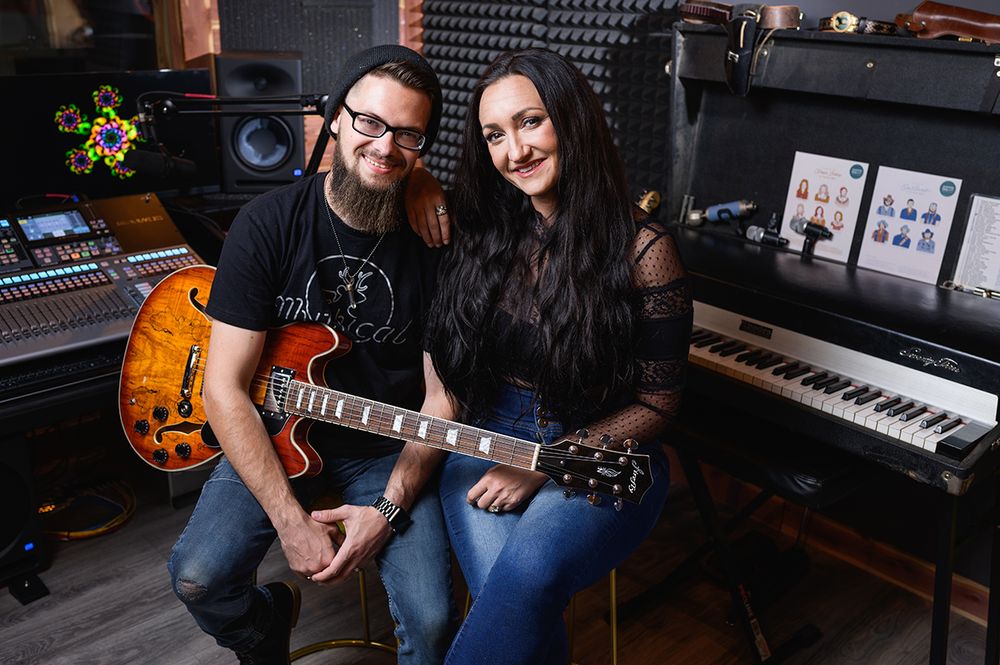 Cliff & Susan are a married international touring duo armed with a piano, fiddle, and guitar, based in Little Rock, Arkansas. Their high-energy, all-request, interactive show keeps crowds entertained for hours in venues worldwide. With over 1,000 songs in their arsenal, they bring a great mix of Country, Blues, Rock, Pop, and Oldies to crowds of all ages. The duo released their debut single, Drivin' Me Crazy on April 11, 2020. 
Singer, songwriter, multi-instrumentalist, and producer Cliff Prowse has produced music for over a decade and performed and recorded in Nashville, TN.  Singing Piano Entertainer Susan Erwin Prowse has launched a successful music career for two decades with two albums released out of Nashville.   Susan has been performing primarily in high-energy international piano bars since 2003. Cliff joined her in 2016 and they tour with over 200 dates a year! A typical tour year includes Arkansas, Santa Barbara, Vegas, Amsterdam, Norway, St. Maarten (Caribbean), cruise ships, and more! 
In January 2021, they launched a podcast, the Cliff & Susan Podcast, where they give a glimpse into their lives and educate, entertain, and inspire. 
They are owners of Big Red Dog Productions, a Music Production and Artist Development company located in Hensley, Arkansas. Susan is the Marketing & Entertainment Director for Willy D's Rock & Roll Piano Bar in the Little Rock River Market.  They have an e-commerce store, branded Rainy Ray, where you can find their handmade jewelry, apparel, and artwork.  Their inaugural Yadaloo Music & Arts Festival in September 2019 was a success and won Arkansas's Best New Festival of the Year, and 2021 Best Virtual Event & Best Promotional Video. 
In 2021, Cliff & Susan were accepted into the Recording Academy as voting members and named Arkansas Country Music Award's Promoters of the Year. As of October 2022, they launched their Entertainers Academy which helps fellow independent artists have profitable music careers and stay current in today's ever-changing music industry.
When not touring, they are home just south of Little Rock in East End on a farm with their 3 little dogs.  
Susan Erwin is an international performing artist whose home is behind a piano. Susan's versatile voice, impressive skills as a mutli-instrumentalist, dynamic stage presence, and rare ability to make every person in the audience feel a part of her show have made her successful in venues worldwide.
In 2003, Susan began her professional music career in the Midwestern United States.  From Little Rock, Arkansas, Branson, Missouri to Los Angeles, CA, Las Vegas and beyond, she has performed for people all over the world. In 2010, she began a yearly international tour booked in venues in the Caribbean and Europe.
In October 2015, she started her Pink Piano Show which became a success during race season at Oaklawn Racing Casino Resort in Hot Springs, Arkansas.
Susan completed her first original self-released 12-song album out of Nashville, Tennessee titled Painting You Gone in 2014. In 2016, Susan released a 3-song EP Ain't My Baby Grand. Ain't My Baby Grand was recorded at Beaird Music Group in Nashville, TN. .
EARLY CAREER & BACKGROUND 
Susan discovered her passion for music growing up in Magnet Cove, Arkansas, a typical southern small-town community on her parent's 250-acre farm. As a child, she took classical piano lessons and later began performing in churches, pageants and talent contests. After graduating from high school as Class President, Valedictorian, and 4-sport athlete, she attended the University of Central Arkansas where she was a member of the Honors College, the university jazz band, and was President of Alpha Sigma Tau Sorority-Upsilon Chapter. Susan competed in the Miss Arkansas Pageant as Miss University of Central Arkansas, and again the following year as Miss Saline River. 
After graduating with Honors and a degree in Pure Mathematics, Susan took a job as a Radio Frequency Engineer with Alltel Telecommunications. She also completed her Private Pilot's License at Central Flying in Little Rock, Arkansas June 2009. After a few years in the corporate world, she made the daring decision to leave her "day job" and devote herself to a full-time career in music. After a few years of working her way up through local piano bars, shows in Branson, Missouri, and finally a lucrative house gig in Los Angeles, Susan made the move to Las Vegas in 2011 where her "calculated risk" paid off, and her dream of success in the entertainment industry became a reality.
CLIFF'S BIO
Arkansas singer, songwriter, multi-instrumentalist, and producer Cliff Prowse was born to play music.  He was tapping in time as a baby and had a natural affinity toward music.  He comes by it honestly, as his father is a successful singer, songwriter and is one of the original members, lead singer, and guitarist of Tragikly White a successful and well-known US Rock band.  At the age of 3, Cliff was given his first drum set and began violin lessons with Tommy Henderson at the age of 10.   He plays fiddle, electric and acoustic guitar, bass, drums, mandolin, and more. 
Cliff's voice, impressive skills as a songwriter and multi-instrumentalist have taken him from popularity at Mt. View, Arkansas' legendary and traditional music festivals winning fiddle competitions, people's choice awards, and sharing rounds with A-list players all the way to being a Nashville music row session player and international touring artist. 
Nominated for Arkansas CMA Fiddler of the Year 2018, on fiddle he has shared the stage with Charlie Daniels and is heavily influenced by him and Brit Currie (former fiddle player for Alan Jackson, Rascall Flatts, Blake Shelton) and Tim Crouch (legendary A-list session fiddle player).  His guitar influences in country music are Brad Paisley, Brent Mason, and Albert Lee.  On the rock and blues side, Stevie Ray Vaughn, Jeff Healey, Joe Bonamassa, and his father Philip Prowse to name a few. 
Cliff is a very versatile songwriter and his catalog includes multiple genres from country, bluegrass, rock, pop to gospel. 
Currently, Cliff continues to write, arrange, produce, provide session work, and perform all over the world with partner and wife Susan Erwin Prowse in their music duo - Cliff & Susan.